Introducing our premium-grade Stainless Steel Hexagonal Bar Rod, designed for both industrial applications and detailed craftsmanship. With its unique hexagonal shape, this bar rod is perfect for applications where strength, precision, and versatility are paramount.
Specifications
6mm, 8mm, 10mm, 12mm, 14mm, 16 mm, 17 mm, 18 mm, 20 mm, 22 mm, 23.5 mm, 26.5 mm, 28 mm, 30 mm, 32 mm, 36 mm, 40 mm, 45 mm, 50 mm, 56 mm, 60 mm, 63 mm, 66 mm, 70 mm, 75 mm, 80 mm, 90 mm, 100 mm, 110 mm, 118 mm, 125 mm
Stainless Steel Grades
AISI 201, 202

AISI 301, 302, 303, 304, 304L, 310, 310S, 304H, 304HS, 316, 316L, 316Ti, 317, 317L, 321, 347

AISI 410, 416, 420, 430, 431
Applications
Ball Valves, Needle Valves, Filter Valves, Connectors, Couplings, Plugs, Hose Ends, Manifolds, Nuts, Bolts.
| | | |
| --- | --- | --- |
| Type | Cold Drawn & Polished (Squares) | Cold Drawn & Polished (Hexagons) |
| Grades | 304,304L,316,316L | 304,304L,316,316L |
| Diameter (Size) | 5mm to 40mm (1/4 " to 1--1/2 ") | 10mm to 40mm (3/8 " to 1--1/2 ") |
| Diameter Tolerance | h11 (ASTM A 484) | h11 (ASTM A 484) |
| Length | 3/4/6 meter (12/14ft/20feet) | 3/4/6 meter (12/14ft/20feet) |
| Length Tolerance | -0/+500mm (-0 "/+2 feet) | -0/+500mm (-0 "/+2 feet) |


Looking for Stainless Steel Hex Bar suppliers? Manufacturer of Cold Drawn SS 304 Hex Bar in China according to British, American and European according to EN 10088-3, EN 10278, EN 10277 standard
Specification

EN 10272, EN 10088-3 Grade 1.4301 (304), 1.4306 (304L), 1.4401 (316), 1.4404 (316L)

Standard

API, ASME, SUS, UNS, ASTM, EN, GB, DIN, AISI

Sizes

3mm to 800mm diameter

Length

Finish

Black, Peeled, Polished, Smooth Turned, Rough Turned, Centreless Ground, Grinding, Cold Drawn Turned, Bright Drawn, Bright, Annealed

Tolerances

K11, K10, K12, H8, H10, K9, H9, H11, H13, H12

Surface Finish

2B, NO.3, 1D, NO.4, 8K, 2D, BA, NO.1, HL

Production Method

Rolled / Forged

Characteristics

Cold Working of Stainless Steel Hex Bars: Good

SS Hex Rod Corrosion Resistance: Excellent

Heat Resistance: Good

Heat Treatment of Hex Bars: Poor

Hex Rod Hot Working: Fair

Machinability: Good

Hex Bars Weldability: Very Good

Value Added Services at Suraj Metal

Other available forms

Ingot, Precision-Ground, Billet, Profiles, Half-Round, Hollow, Rounds, Channel, I/H, Angle, Forging, Blocks, Triangle, T-Bar, Rod, Threaded, Rectangle
Stainless Steel Hex Bar, SS Hex Bar Manufacturer, Hexagonal SS Rod, Hex Bar Material & Grades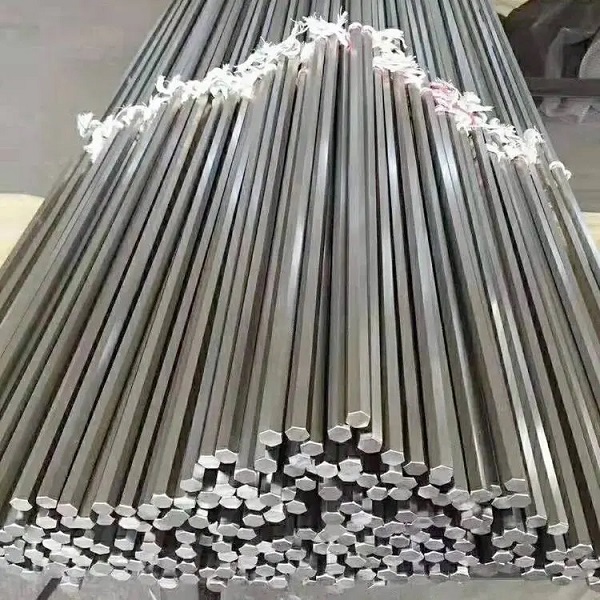 Key Features:
Material Excellence: Crafted from high-quality stainless steel, ensuring prolonged durability and resistance against corrosion, rust, and tarnish.

Hexagonal Shape Advantage: The distinct six-sided shape offers better grip and torque, especially beneficial for fastening applications.


Dimensional Accuracy: Precision-engineered to maintain consistent cross-sectional dimensions, ensuring uniformity across all lengths.


Machinability: While boasting impressive strength, our bar rod is easily machinable and can be welded, brazed, and formed based on project requirements.


Broad Application Range: Ideal for manufacturing, construction, architectural designs, and even artistic projects.


Smooth Surface Finish: Polished to a sleek finish, enhancing the rod's aesthetic appeal and reducing the potential for material buildup.

With its amalgamation of durability, precision, and aesthetic appeal, our Stainless Steel Hexagonal Bar Rod stands out as a prime choice for multiple applications. Whether you're in the heart of industrial manufacturing or crafting an exquisite piece of art, this product ensures strength and finesse in every endeavor.